Submitted by
content
on Sun, 03/05/2017 - 11:28
Real Madrid manager Zinedine Zidane has dismissed concerns that star striker Cristiano Ronaldo was getting anxious in the 2-0 win over Espanyol during the weekend.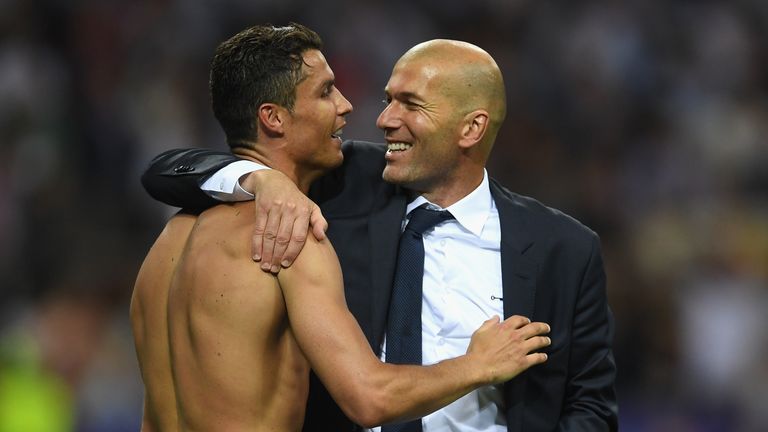 Ronaldo failed to score in the game as Alvaro Morata and Gareth Bale came up with the goals in either half to secure a fourth consecutive league victory for the table leaders. Reigning Ballon d'Or holder Ronaldo was least happy with the result given that he failed to score in yet another league match. This has been a difficult campaign for the 32-year-old Portuguese star, who continues to trail Lionel Messi and Luis Suarez in the La Liga goalscoring charts.
In the last seven matches across all competitions, Ronaldo has managed to score only three goals with only two of them coming in the league. These are a substantial drop from the player managing to get a hat-trick almost every game in the last couple of years. It was a major factor behind Ronaldo winning three Ballon d'Or titles since joining Madrid in 2009.

The recent decline in form for Ronaldo has been rumoured to be down to manager Zinedine Zidane switching to tactics at the club. Madrid have gone from being overly reliant on Ronaldo for the goals into a club that scores from across the pitch.
"We all know Cristiano.He always scores and when he doesn't he can get anxious, but he was not like that here. I am not worried about him. I think he helped us a lot and did a lot of running, like against Napoli. I know he will make a difference for us at the key moments.There was no offside on Cristiano and it was a penalty without a doubt. I'm sure it would have been 3-0 then and we would have deserved that," said Zidane.